Universal Hermetic Ray Kabbalah
Who am I?
What am I?
Where did I come from?
Where am I going?
What is my purpose?
The Universal Kabbalah began in the ancient world and has been with us from the beginning of human history. The word Kabbalah means "to receive" or "that which is received." In particular, it refers to an ancient tradition of knowledge passed down from a higher source, such as Spirit. This knowledge, along with practical techniques for integration and application, is then handed down orally through a lineage of Kabbalists, from teacher to student, such that the unfoldment of each individual is realized.
The Universal Kabbalah is the purest form of metaphysical study available in the world today. It is the study of Creation and the Divine Essence of humans as a noble and essential part of our spiritual inheritance. Focused on understanding the fundamental basis of all creation, its goal is to reveal the purpose of our existence and to give us tools for reclaiming our birthright as co-creators on this planet. Through this study we come to the realization of who and what we are, fulfilling the ancient decree: Know Thyself!
The Kabbalah is a system for expanding our consciousness and awareness towards accelerated evolution. This system is based on the idea that all answers are within each of us, waiting to be revealed. The most important thing to living a fulfilled life is to be able to find and ask the correct questions. The Kabbalah teaches you how to ask the right questions and gives direct solutions to any problem.
Deciphering the ancient sacred geometric glyph of the Tree of Life, Kabbalah moves us into a new world of thinking, opening gates to hidden dimensions of understanding and awareness. This glyph is comprised of ten spheres of influence, which represent the map of the universe, including all aspects of God, and is compatible with all religious beliefs. The Tree of Life is the DNA, the blueprint, of one's entire being. In ascending the Tree, the blueprint of life itself is explained and influenced so that we can fully transform ourselves, inside and out.
The Universal Kabbalah Program is one of the most intensive and uplifting classes the Modern Mystery School offers. It is absolutely necessary to understand and study God and the God Essence within all of us in order to be a truly effective student of the metaphysical. The program reveals to us who and what we are and allows us to come to a higher level of knowing ourselves.
Most people think of the Jewish Kabbalah when they hear of this program. However, we cannot stress enough that this system is not Jewish – it is unhindered by any religious world view or dogmatic system and is in the very first original form of study.
The magick of the Kabbalah is revealed through a glyph, or symbol, known as the Tree of Life. In studying this Tree, we take our experience of our own life into a higher realm of consciousness and awareness. In the full-year study of the Universal Kabbalah, your Kabbalah will facilitate a journey that will allow you to take an introspective look at your life, thoughts, actions and emotional patterning while ascending you up the Tree of Life, bringing you closer and closer to God and your own divine nature.
The Universal Kabbalah is not only about the knowledge and wisdom of Kabbalah, but it is also a process of ascension — a spiritual and alchemical transformation that will change your life forever.
For more information, please contact:
Barbara Segura, Modern Mystery School Guide
barbara@limitlesslight.com
(239) 821-3601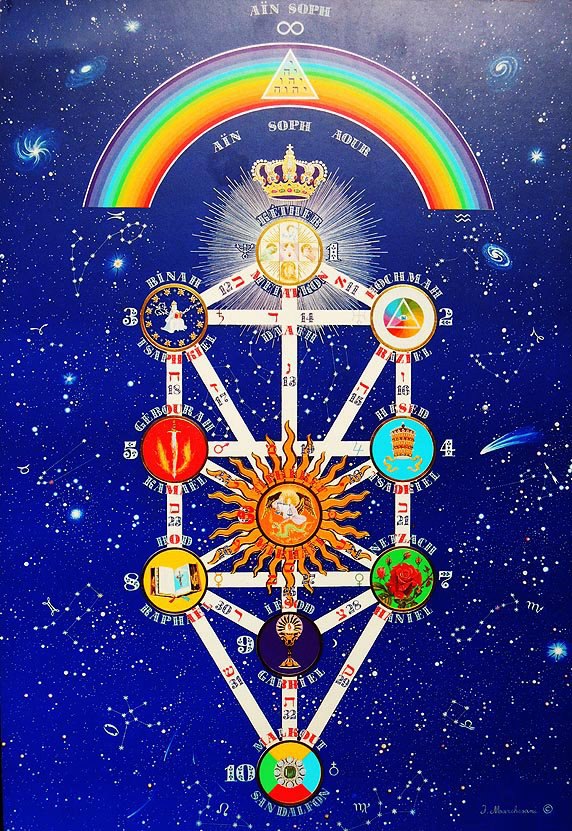 Dates for Kabbalah 2022 Program
Kabbalah 1: January 22 & 23, 2022
Kabbalah 2: April 23, 2022
Kabbalah 3: July 30, 2022
Kabbalah 4: October 28, 29 & 30, 2022
Energy Exchange
Full Program:
$3600 for the ascension classes + study group fees ($30 x 11) + retreat fees (usually around $350 depending on retreat location options). The $3600 is paid in four installments of $900 at each of the 4 ascension classes.
Discounted Cost for Certified Healers Academy Graduates:
$2800 for the ascension classes + study group fees ($30 x 11) + retreat fees (usually around $350 depending on retreat location options). The $2800 is paid in four installments of $700 at each of the 4 ascension classes. You must be current with having recently attended Healers Academy or MMS' Professional Integration Day (PID) in order to receive this discount.
Deposit Amount:
$400 for first time students
$200 for audits
Pre-requisite:
Empower Thyself
Kabbalist Audit Fee:
Adepts: $450 per class; Certified LAPs: $350 per class.
Payment Options:
Paypal / barbarasegura515@gmail.com (USE FRIENDS & FAMILY) VENMO @barbara-segura-1
Check / Mail to:
Barbara Segura
4632 15th Avenue, Southwest
Naples, FL , 34116, USA
Eric Thompson speaks on Kabbalah